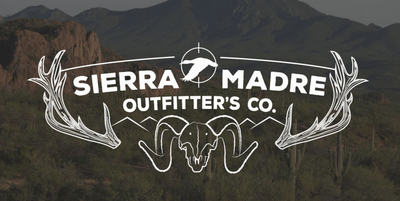 WE INVITE YOU TO CAREFULLY READ ALL THE INFORMATION
WELCOME TO SIERRA MADRE OUTFITTERS!

Since 1993 with over 27 years of experience we organize professional world class hunts. Our main objective is getting our clients the best trophy and having the time of their life while hunting with some of the best outfitters in the world! All hunts are professionally guided by one of our experienced staff members who always work hard to insure you have a premier hunting experience. We know your trophy success is our company success, that's why we work with heart and passion on every hunt the we run.

WE OFFER WORLD CLASS HUNTING PACKAGES

-Desert Bighorn Sheep
-Desert Mule Deer
-Desert Coues Subspecie Deer
-Sierra Coues Subspecie
-Coahuila Texan Subspecie Whitetail Hunts
-Argentina Wings Shooting Hunts
-Goulds Turkey Hunts
-Occellated Turkey Hunts
-Jungle Deer Grey & Red

Fair chase it's a ethical approach to hunting big game animals. North America's oldest wildlife conservation group, the Boone and Crockett Club, defines "fair chase" as requiring hunted big game animals to be wild and free-ranging. "Wild" refers to an animal that is naturally bred and lives in nature. "Free-ranging" means an animal that is not confined by artificial barriers - grew up on bars and was later released ¨For free range"


Fair chase has been the honor code of North American hunters for over a century and the principle underlying many of North American hunting laws, and is taught to new hunters in hunter certification courses.


FREQUENTLY ASKED QUESTIONS

Sheep Season December 1st to April 1st

Mule Deer, Coues Deer & WhiteTail season December 1st to February 1st

Turkey Season April 15th to June 25th

What is the best flight down to Mexico? Phoenix or Mexico ( The City ) Our driver can pick you up at any airport
Can I bring my gun with me? Yes! We handle the transportation and paper work too! You need an import permit from mexican army we do that for you! We will send it to you onces is ready and you can fly into Mexico
Is it safe to travel? Yes, Very Safe! , Hundred of hunters come here every year with no issues!
Is housing provided? Yes, We have clean and nice housing solutions for all of our hunts and the best campus for our most remite hunts
Are food and drinks provided? Of course!, Amazing food and soft drinks ( we handle special diets )

WHAT ELSE IS INCLUDED?
-All Transportation During The Stay
- Personal Driver 24/7
-Professional Skinning and Trophy
-English Speaking Guides All The Time
-BodyGuards service
-Satelital Phone & Enternet acess





WE PROMISE YOU WON'T BE DISAPPOINTED, COME JOIN US!